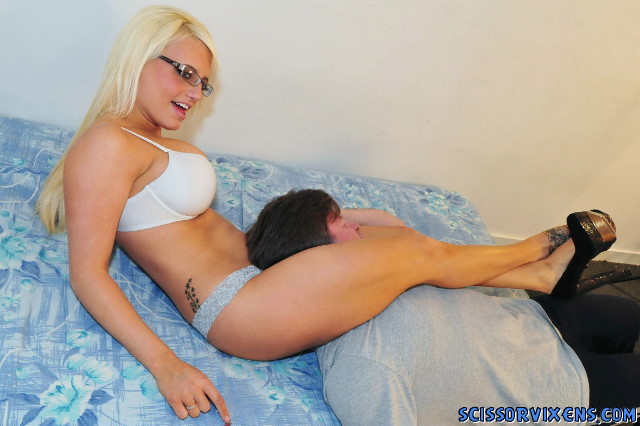 Jacky Joy loves what she does for a living which is
showing off her gorgeously toned body and rather ample
breasts for her admiring fans. But one thing that really
sets her off is when technology gets in the way of one
of her eye-popping performances! So when she's in the
middle of a live cam-show and her Cam-Mate cam software
starts crashing she gets on the phone and demands a
technician come over and fix it right away!
It doesn't take him very long to arrive and even takes
him less time to insult the bodacious blonde saying the
color of her hair might have more to do with the problem
than the software! So after getting her live cam-show
back up and running Jacky Joy decides to introduce the
technician and her fans to a new type of entertainment!
Watch as Jacky Joy totally DESTROYS the cocky-mouthed
man using her killer thighs in one scissor hold after
the other! And for further humiliation in front of
thousands of her live cam-show fans she even pins him
down by straddling his neck with her crotch and
says..."Look...I can even strangle you with my vagina
and ass!".
So check out Jacky Joy in her latest ScissorVixen video
titled 'Scissor-Mate'!
Download:link mediafire or box.net
click here to download