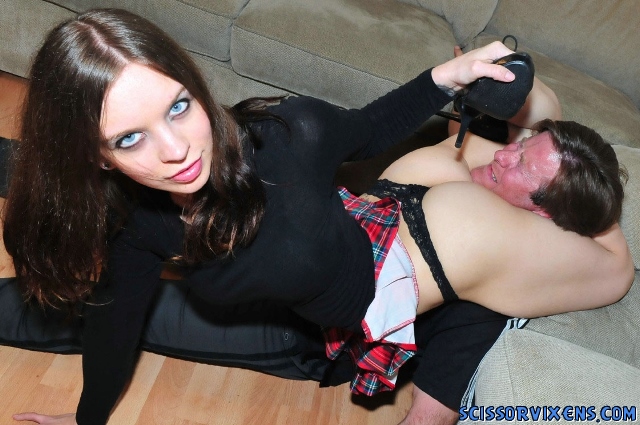 Gorgeous new ScissorVixen, Miss Lacy Lynn, may possess
the most perfect muscular butt we've ever seen! And of
course with a butt that immaculate her legs are every
bit as shapely and muscular as well! Once she locks you
up in reverse headscissors or figure-4 and powers down
with those glutes...it's all over!In her debut
ScissorVixen video she plays a rebellious school-girl
wearing a sinfully short plaid skirt with black top and
black shoes. So when her physical education teacher
shows up at her house to find out why she keeps skipping
out on PE class she shows him her legs and forces him to
take one of her 'Physical Scissor Education' classes
instead!
Watch as Miss Lacy Lynn wraps her gorgeous muscular
dancer-trained thighs around his neck and proves to him
he's the one who needs more physical training! She
starts out by doing cheerleading style splits on his
neck. Then as he demands she let him up she closes her
skull-crusher thighs around his neck and pours on
eye-popping pressure from one of the sexiest reverse
headscissors you'll ever see! No matter how many times
he threatens she won't be able to graduate without
completing the required PE classes she just ignores him
and pulls him into another torturous scissor hold!
So check out Miss Lacy Lynn in her debut ScissorVixen
video titled 'Physical Scissor Education!'.


Part 2:



Download:
Link mediafire or box.net
click here to download
click here to download part 2