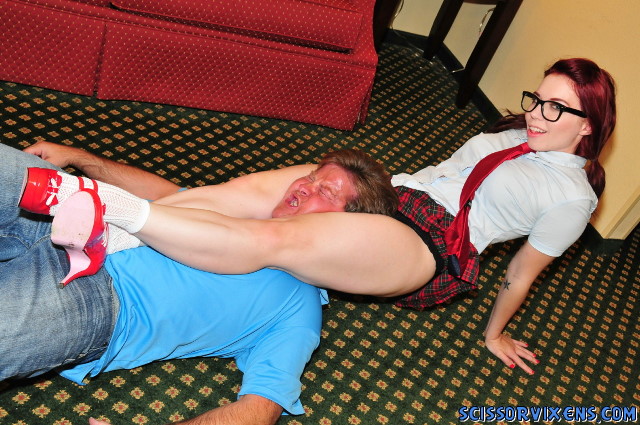 Nessie Squeeze is a young college student who takes
pride in her academic accomplishments no matter how she
goes about accomplishing them so when Dean Smith informs
her that he is removing her from his Dean's list for
suspicious behavior...she nearly removes his head
instead! He tells Ms. Squeeze that he's been noticing
several of her professors suddenly walking around
wearing neck braces shortly following after-class
extracurricular work she's been doing with them, due to
failing grades, and finds it somewhat odd that she
always seems to eventually end up getting a perfect 'A'.
So...Ms. Squeeze decides to show Dean Smith just how she
manages to get all those good grades by starting a new
list she decides to call 'The Dean's Squeeze List' in
which she is the first and only member! Nessie Squeeze
is at her savage best in this video applying some of the
most brutal and tight scissor holds imaginable! Watch as
she unleashes all of her scissoring fury by
thigh-bombing the Dean's head over and over again in
side head scissors and snapping her legs out in the most
violent manner possible causing him to cry out in pure
agony! She threatens to hurt him twice as bad as the
other professors and promises that he'll end up wearing
a neck brace as well if he doesn't agree to put her back
on the Dean's list as well as putting her on the very
top of the new 'Dean's Squeeze List'! Something tells me
that Ms. Nessie Squeeze isn't going to have problems
staying on the Dean's list anymore!
Screenshots:


Download:

link box.net


Part 1
Part 2
Part 3
Part 4
Part 5

mirror mediafire.com

Part1
Part2
Part3
Part4
Part5