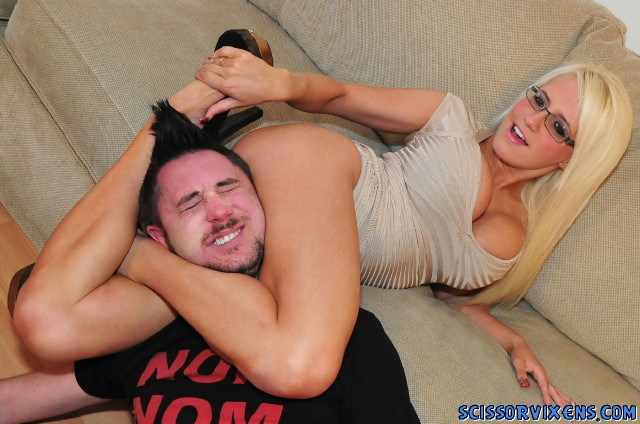 Although her name was already familiar to us from a few
videos she's done 'here and there' we would have never
suspected that adult entertainer, Jacky Joy, had the
kind of dominant side to her personality that she
displayed in her debut ScissorVixen video!
But when her victim in this video told me how she
totally destroyed him with her athletic and VERY STRONG
thighs in a previous video…we were very impressed! Jacky
Joy is an avid runner and we could tell by how long,
muscular and solid her legs were that she could
administer one PUNISHING SCISSOR HOLD! Even when she
catches him in the most dangerous and lethal scissor
hold (ankles tightly locked and her legs straight across
his throat) she cranks it up and straightens her thighs
while telling him..."No more tapping out!" seconds
before powering-down and causing him to do just that!
In her debut video she plays a health insurance
representative that is sent to administer in-home
physicals to ensure customers are healthy and fit enough
to be insured. But when he tries to convince her that
he's perfectly healthy and doesn't need any physical
that's when she decides to give him the ultimate test
with her thighs instead!
So check out gorgeous Jacky Joy as she scissors the
living daylights out of her victim in her debut
ScissorVixen video 'In-Home Scissor Physical'.
Download
link mediafire or box.net
click here to download