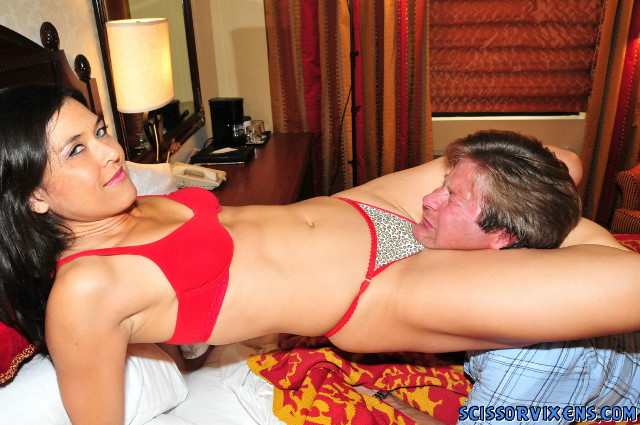 Drew finds out the hard way that insulting a seasoned
ScissorVixen isn't too wise and Tomiko decides to teach
him a lesson when he does just that to her! Drew asks
Tomiko for her most current pictures to be certain she's
still in tip-top scissoring shape. Tomiko sends him the
pics he requests and when they finally meet for her
latest video shoot...she also shows him her 'Most
Current Scissors'! Tomiko tells him she's in better
shape than ever hitting the gym almost every day and
Drew agrees noticing her impressive biceps but it's her
signature legs that he's about to notice real soon.
Before his partner, Kandor, arrives to the shoot she
decides to show him just how strong her scissors have
gotten and pulls a reluctant Drew into a eye-popping
front head scissors! She continues working him over and
even taunts him at one point speculating how she's about
to make the "...world famous Drew...Scissor King of the
world..." tapout and submit to her skull crushing head
scissors. Drew pleads and begs for her to stop telling
her to "save it for the video shoot" but she just keeps
going on telling him she'll stop once Kandor shows up.
Kandor finally arrives but unfortunately for Drew...it's
too late as Tomiko's 'Most Current Scissors' takes it's
toll on poor Drew leaving him a broken and helpless mess
laying on the floor.
Screenshots:



Download:

link box.net

Part 1
Part 2
Part 3
Part 4
Part 5
Part 6
Part 7
Part 8

mirror mediafire.com

Part1
Part2
Part3
Part4
Part5
Part6
Part7
Part8