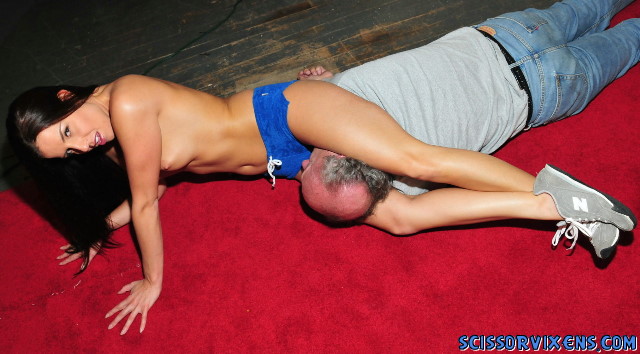 Kobe is drop-dead gorgeous and insanely sexy in her tiny
tank top, incredibly short and tight booty shorts and
little sneaks and wonders why coach won't put her on the
team! "Because you dress like a slut," he barks. "Now
get out!" Not so fast, coach, and Kobe clamps her
man-eating thighs around his ears for an all-out scissor
blast all over the old fart's head, trapping him high
and tight and crushing his skull blue, his eyes bugging
out and his head exploding in a grid of gruesome veins!
This gal means serious scissor business, putting the
squeeze on big time, admonishing him to put him on the
squad, growling "Don't you think my big, strong legs
belong on the team?" and showing him how strong they are
in thigh thrashing that nearly chops his head off!
Speaking of chops, she occasionally blasts him in
scissor chops, lifting one leg high up and slamming it
down into his screaming head! This little leggy lady
oughta be on 'The Squeeze Squad', not coach's team but
in the end, thanks to Kobe's relentless crushing
assault, she makes the team!
Screenshots:


Download:

link box.net


Part 1
Part 2
Part 3
Part 4
Part 5

mirror mediafire.com

Part1
Part2
Part3
Part4
Part5