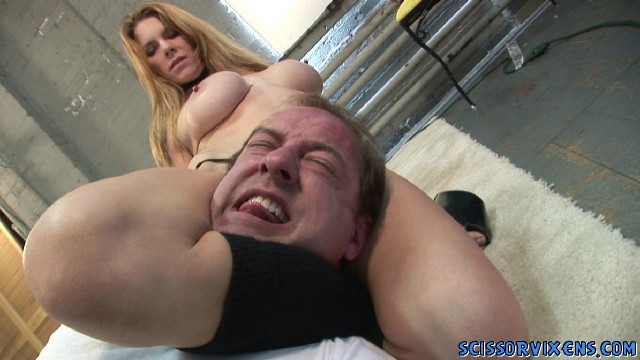 This was a custom video in which the customer wanted to
see Amber Jade strangle her victim in a multitude of
ways. She starts out by gripping her powerful hands
around her victim's neck and squeezing until his eyes
bulge and his tongue starts to hang out. Then after
loosening up his neck with her hands Amber Jade moves on
to do plenty of brutal SCISSOR-STRANGLING with her long,
lean dancer thighs!
During one scene Amber Jade demonstrates just how
flexible and limber her legs are as she straddles her
victim's neck in a leg-split and while he struggles to
breath she asks..."You like being choked by my vagina
don't you!?. And in another scene as he tries to escape
she says..."I didn't say you can move!" as she pulls his
head back down with one of her long thighs right back
into a crushing side reverse head scissors!
At one point she even uses a light cord to strangle her
poor victim from behind as well but as always with a
ScissorVixen video...it's her thighs that really do the
damage and in the end finish him off!
After the video Amber Jade admitted that she was still
high from the excitement and exhilaration she got from
watching her victim's eye's bulge out from wrapping her
chord-like thighs around his neck and squeezing the
daylights out of him!
So check out SEXY 5'10" tall Amber Jade in her latest
video titled 'Amber Jade's Strangle Pad!'.
Download:link mediafire or box.net
click here to download