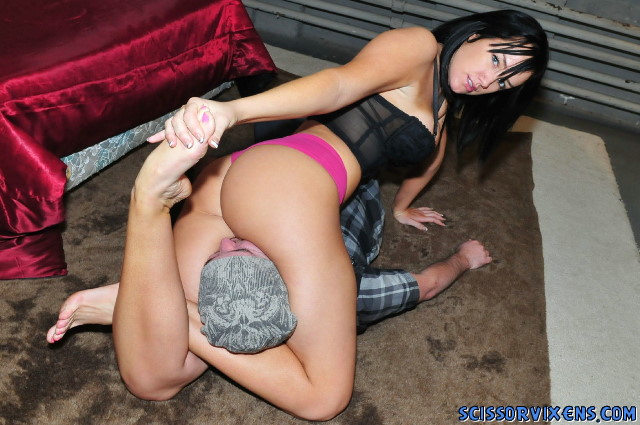 Gorgeous 5'11" Amazon, Mandy T., returns to
ScissorVixens.com to teach her boyfriend how to respect
her hard-working efforts of finding a job despite the
fact that he lays around all day doing nothing. So when
she comes home upset and dejected about her latest job
interview he doesn't hesitate to jump down her throat
about once again choking under pressure.
So while sitting on the arm of the chair with her
boyfriend's head just inches from her long, lethal legs
Mandy T. doesn't hesitate to literally jump ON his
throat with her powerful thighs showing him what
'Choking Under Her Scissor Pressure!' is all about!
Mandy T. is about as genuinely dominant as they come
here at ScissorVixens.com and she admitted afterwards
that this was an easy video to get angry and aggressive
for since she can literally relate to it! Which was
unfortunate for her victim who said right from the start
that he could tell from the tone of Mandy T.'s voice he
was about to pay a painful price for some other guy's
misdeeds…and that he did!
Watch as Mandy T. totally CRUSHES the smaller male over
and over again in a brutal scissor onslaught including a
vicious lotus hold (locking his arms up in a full-nelson
with her thighs and then continuing to pull his arms
back) that nearly pulls his arms out of their sockets!
But in the end it's back to what Mandy T. does best and
that is BRUTAL scissor torture as she has him seeing
stars with a killer leg scissors that cuts across his
neck sideways and right into his jugular vein nearly
knocking him out cold!
No doubt Mandy T.'s boyfriend is praying she can handle
the pressure during her next job interview because he
sure in the hell can't handle anymore of hers!

Download:link mediafire or box.net
click here to download