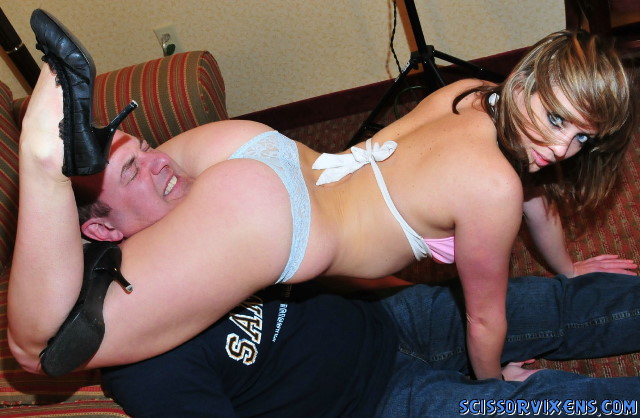 In 'Scissor Necktie' Ivy returns looking gorgeous as
ever this time wearing a lacy thong that really shows
off her incredible legs and butt to perfection! She
plays a wife who accidentally throws out her husband's
favorite necktie. He isn't too happy and starts to yell
at her telling her, "That was my favorite necktie!" to
which she responds by giving him a new necktie to
wear...her "Scissor Necktie"! Ivy uses her muscular,
athletic legs to nearly squeeze the life out of her
hubby in a non-stop display of scissor fury going
full-out in wrapping him up in crushing front
headscissors, strangling figure-4's and her
favorite...eye-popping reverse headscissors. As a matter
of fact...near the end...Ivy knocks him out (for real!)
in an incredibly sexy and powerful reverse headscissors
while his head is hanging off the edge of the couch!
After he regains consciousness, with his head still
hanging off the edge of the couch, Ivy pulls him into a
standing headscissors and makes him promise to never
bitch at her again about tossing out one of his favorite
neckties!

Download:

link mediafire or box.net


click here to download