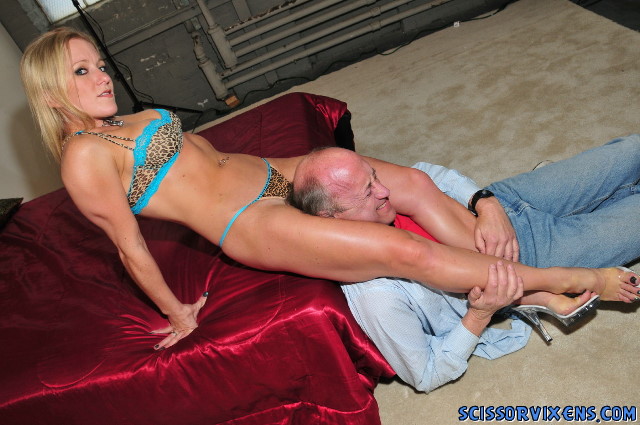 In the "what were we thinking?" category, we decided to
do not 15 minutes, but a full 30-minute video of "Dia's
Savage Scissor!" as part of our ongoing savage scissor
series. OK, maybe not so smart, because this gorgeous
blonde muscular dynamo doesn't know the meaning of the
word quit! Tapping is just something that eggs her on,
so watch and wince as Dia's unbelievably sexy, strong
and domineering legs just take apart Kandor and Drew one
by one, each man taking his lumps and then some, begging
this sexy ScissorVixen for mercy and keeping an eye on
the clock hoping their turn would be over soon! This is
30 minutes of all-out, pure scissor power as Dia's
rock-hard thighs bulge and ripple around the heads she
crushes, and her bulbous calves rock the throats of her
victims in a brutal succession of savage figure fours!
Her reverse headscissors is to die for as that bowling
ball ass of hers thumps and thrusts and acts as the
power engine for her punishing thighs! This was one of
the most savage of savage scissors we've ever filmed,
thanks to the bone-crushing power of Dia Zerva!

Download:

link mediafire or box.net


click here to download