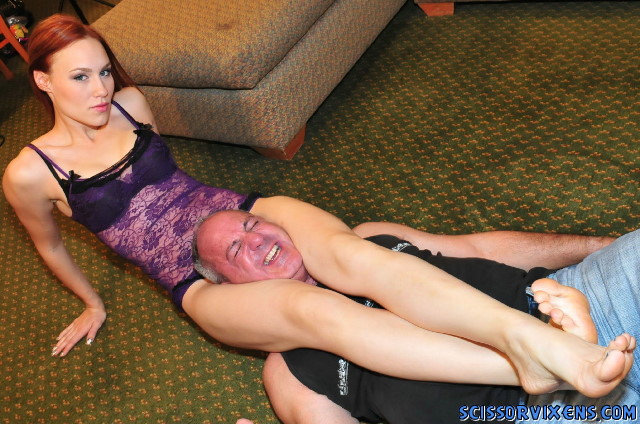 Stunningly gorgeous and lethal legged Las Vegas dancer ,
Karma, returns to ScissorVixens.com once again show us
that a beautiful face and devastating thighs are a
scissor-ific combination! In her latest video Karma's
husband starts complaining about the sectional couch
Karma's mother gave her and how it's not only ugly but
it has a large stain on it as well! Karma tries to
explain to him that the couch has a lot of sentimental
value for her growing up as a kid but he can care less
and tells her the couch has got to go.
So she tells him that she'd like to show him one of the
reasons she so attached to her mother's old couch by
having him lay down on it with his head hanging off the
edge. Then Karma attaches her long and oh-so-strong
thighs around his head in a killer reverse head scissors
and introduces him to 'Sectional Scissors'!
Note: Karma was given plenty of motivation in this video
to squeeze the living daylights out of her victim when
he confidently proclaimed the night before when we met
her..."There's no way you're going to get me to tap out
tomorrow!" to which she replied…"Oh…you'll tap out…I
promise!". Well...needless to say...he not only ate his
own words but he also ate plenty of Karma's CRUSHING
scissors as she forced him to tap out over and over
again! Now I'm not going to lie and say that I knew
Karma had the kind of scissor power she displayed in
this video because quite frankly...I thought the same
thing as her victim before the video. But after
watching how red his face got, how watery and
tear-filled his eyes were and how puffy his face looked
only mid-way through this video....I knew he was taking
a major league scissor beating! So don't let a pretty
face and innocent smile like Karma's fool you because
this girl can squeeeeze with the best of them!
Download:link mediafire or box.net
click here to download