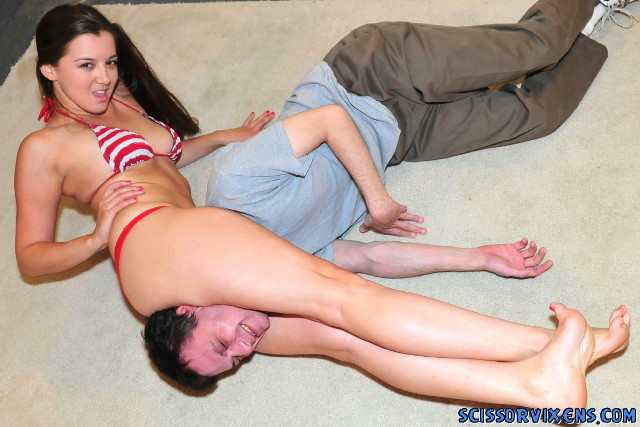 Gorgeous 5'10" tall model, Becky LeSabre, doesn't like
to be told she's not good enough or doesn't have the
right look so when a smart-ass photographer rejects her
attempt to become a scissor-model...she proves to him
she's got what it takes and more! She points to her
long legs and says..."Look at these legs...these legs
give me a lot of 'Scissor Leverage!'.
Watch as this incredibly hot cutie strips down to her
sexy red bikini and tells him..."Now you're going to
find out what these long legs can do!" and proceeds to
close-line him with her right arm while tackling him to
the bed! From there she quickly wraps her LONG LEGS
around his scrawny neck and shows him why she's the
perfect model for a scissor video. At one point while
struggling to break free she giggles at his futile
attempts and says..."Oh go ahead and struggle and make
it a little fun!".
Then he finally makes a near-fatal mistake while trapped
in an eye-popping front head scissors calling her a
"bitch"! "What did you just call me...?" she asks and
he foolishly repeats it again! That's when she turns up
the scissor-heat a few more notches and says..."Now
you're going to feel the worst scissor headlock you've
ever felt!" and within seconds the helpless photographer
starts tapping out but it's too late...Becky LeSabre
KNOCKS HIM OUT FOR REAL!
In the end, after totally destroying the photographer
with her long legs, Becky finally gets what she
wants...a part as the next ScissorVixen scissor-model.

Download:link mediafire or box.net
click here to download