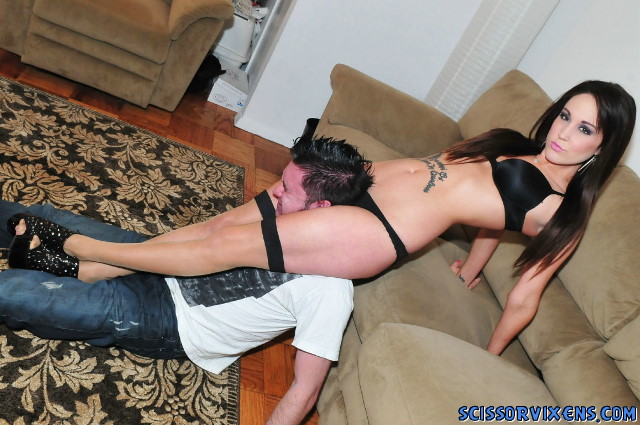 Miss Lindsey Leigh has got it all
and then some! Aside from her fashion model looks she's
every bit as dominant and cruel as any ScissorVixen
we've worked with to date! She holds nothing back in
destroying her helpless victims whether using her long,
lean legs to scissor you senseless, strangle you in a
figure-4 leg lock, verbally rip you to shreds or doing
all at the same time!
In her debut video Miss Lindsey
Leigh has had enough of some cowardice fool who keeps
ringing the lobby doorbell to her NYC apartment. But
little does he realize that she knows exactly what he
looks like thanks to the lobby security camera. So when
this same guy finally summons the courage to schedule a
session with her and rings the doorbell outside of her
apartment she immediately recognizes him as the same guy
who's been ringing the lobby doorbell and then running
away.
He's there for a foot-worship
session but after recognizing who he is the now furious
Miss Lindsey Leigh wraps her long, lean legs around his
neck, begins to squeeeeeze and tells him he's going to
get a different kind of session…a scissor session that
is! At one point while looking down and admiring the
way her thighs look she begins to rub one of them and
says to the helpless man..."Damn my thighs look really
good. It's fun to choke you out while I check them
out!". That's just one of MANY examples of Miss
Lindsey Leigh's scissorific dialogue she uses throughout
the video to go along with her brutal scissor holds and
strangling figure-4's!
So check out Miss Lindsey Leigh in
her ScissorVixen debut video titled 'Ringing His Bell!'
Download:link mediafire or box.net
click here to download