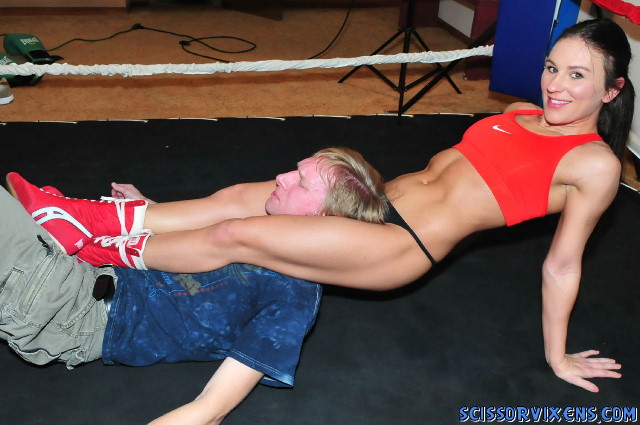 Hailey is a 4-time world female boxing champion (for
real!) so when a couple of guys walk into her boxing gym
one of them tells her that boxing is a man's sport and
she would look better as a ring card girl. Needless to
say he has no clue that she could easily knock his head
off with a few quick jabs followed by a right cross but
Hailey decides to oblige the chauvinistic male's
comments by removing her loose boxing shorts and
stripping down to a sexy black thong. Then she
challenges him to step into the ring and quickly finds
out that this 'ring card girl' is about to RING his neck
with her lean, muscular thighs!Watch as Hailey
demonstrates that not only does she have iron fists but
iron thighs as well! She works him over with her
scissors quickly moving from killer figure-4's to
straight neck scissors to eye-popping reverse head
scissors to just about anything else she wants to do to
him! At one point the beaten and exhausted man gets
tossed into the corner of the ring and before he has a
chance to react Hailey climbs up behind him and while
leaning her back on the ropes catches him in a torturous
classic head scissors from behind. And in one very sexy
and incredibly effective hold Hailey wedges his scrawny
neck between the back of her calf and hamstring muscles
and applies her full weight causing him to frantically
tap-out almost instantaneously!
In the end the poor man learns a valuable lesson that
just because a girl is pretty and petite doesn't mean
she can't kick your ass whether with her fists or her
thighs! And before she lets him go she says..."Ok...how
about one last squeeeeeeze!?"...and lets him have it
causing him to scream out his submission once again.
Wanna' step in the ring and take on Hailey...? If
so...you can

contact her today
but you better be prepared
to get your ass whopped by this pretty little peach from
Atlanta, Ga.!

Download:link mediafire or box.net
click here to download