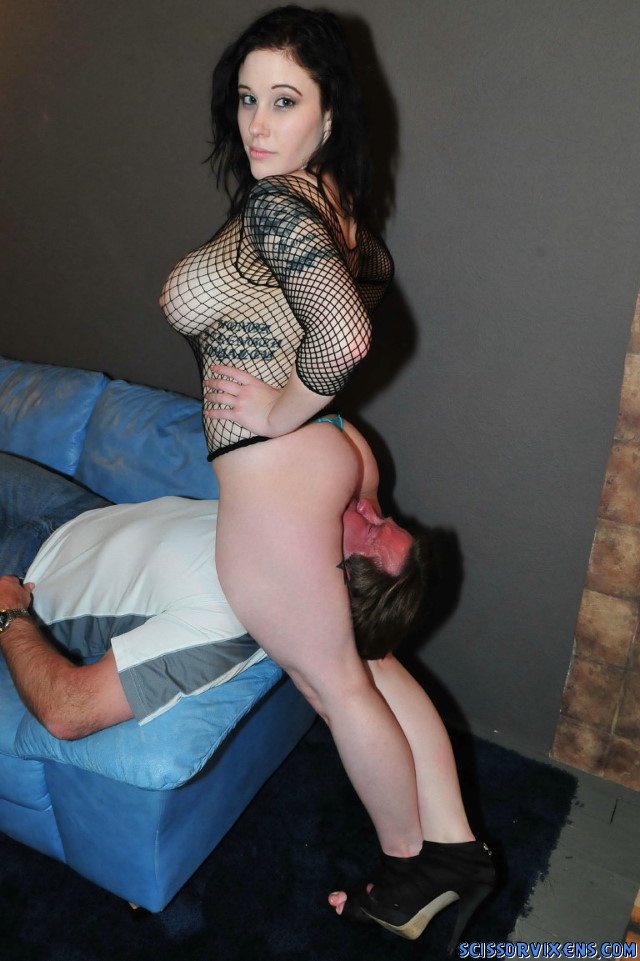 Gorgeous new dark-haired ScissorVixen,
Ava Monroe, debuts in her first ScissorVixen video.
She plays the role of a sexy young woman who discovers a
small video camera sitting on the bottom of one of her
plants. So when she confronts the man who is there
to take care of her plants while she's gone he denies
having anything to do with it. Of course Ava
Monroe is smarter than that and basically calls him a
pervert while turning the 'perv cam' on him! Watch
as Ava Monroe uses her thick, powerful thighs to totally
CRUSH the pervert into screaming submission! Over
and over again he is forced to tap-out and in one brutal
reverse head scissors starts to see stars before having
to tap-out 3 times!
In the end Ava Monroe grabs the 'perv
cam' and while clamping on a paralyzing and completely
debilitating standing reverse head scissors points the
camera down at his face to capture the moment she knocks
him out for good!
So...check out our latest ScissorVixen,
Ava Monroe, in her debut video titled 'Perv Cam CRUSH'!
Side note: It's been quite some time
since I've had to tap-out as many times as I was forced
to between the powerful thighs of our latest
ScissorVixen...Ava Monroe! Of course what's all the
more impressive is that she's a newbie and this was her
first time scissoring anyone. But once she told me her
background which includes many years playing soccer
(including in college), spending a few years in the Army
and a stint as an exotic dancer...it's no wonder she had
me seeing stars and tapping out on more than a few
occasions!
And her reverse head scissors are absolute
MURDER! It took 3 tries to get through one of her
reverse head scissor scenes because I was forced to tap
out over and over again! In fact...each time I had to
tap out as the shoot went on...Ava was getting more and
more confident and even cocky at one point mocking me by
asking..."Are you really tapping out
again!?...Really!?".
And the taunting didn't stop there! A few days
after the shoot she sent me a text and
asked..."So...when do I get to knock you out!". And
when I told her that the only way to do that is ignore
my tap-outs but then I would have to bust out she
replied..."Oh...I'm going to ignore your tap-outs next
time but I don't think you'll be getting out...you'll be
passing out instead!". Hmmm...I think next time I will
most definitely be staying behind the camera!
---


Download:

link mediafire or box.net


click here to download
click here to download part 2