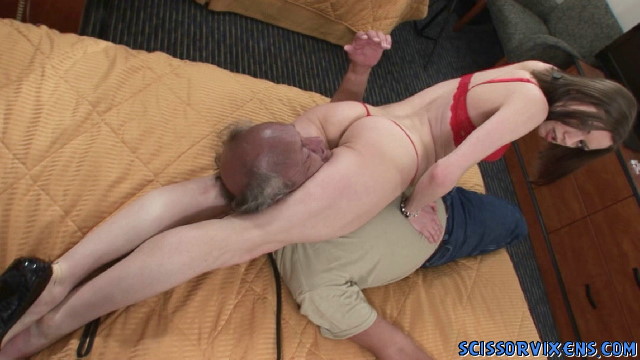 When a somewhat reluctant man shows up for his session
with Ms. Bijou Steal he isn't quite sure what to
expect. He's heard all about her and has seen a few of
her clips on the internet and after finally gathering up
the courage to live out his fantasy his fantasy quickly
turns to his worst nightmare! Ms. Bijou Steal wastes no
time in letting him know who's the boss as she tells him
he's going to get strangled today!
Watch as Ms. Bijou Steal starts out by grabbing his
throat with her bare hands and applying eye-bulging
pressure causing his tongue to hang out as he gasps for
air. The look of terror is written all over his face as
he wonders if his first session with Bijou Steal may be
his very last. After nearly strangling him to death
with her hands she decides it's time to introduce him to
her most effective lethal strangling tools...her long,
steel-like
thighs!
No one combines the kind of scissor-tongued dialogue,
diabolical "You wanna' be next!?" glances into the
camera and truly frightening scissors that has Kandor in
sheer panic mode better than Ms. Bijou Steal! She has
Kandor frantically tapping out and practically begging
for his life several times in this video including one
of the most vicious and scary figure-4's I've ever
seen! I was genuinely concerned that she could have
broken his neck if she would have arched any higher
while trapping his neck in her inescapable leg-noose! Of
course you get plenty of other crushing scissor holds as
well including some of the most mind-blowing
(literally!) reverse head scissors you'll see anywhere!
So check out Ms. Bijou Steal in her latest ScissorVixen
video titled 'Ms. Bijou's Strangle Session!'.

Download:Link mediafire or box.net
click here to download