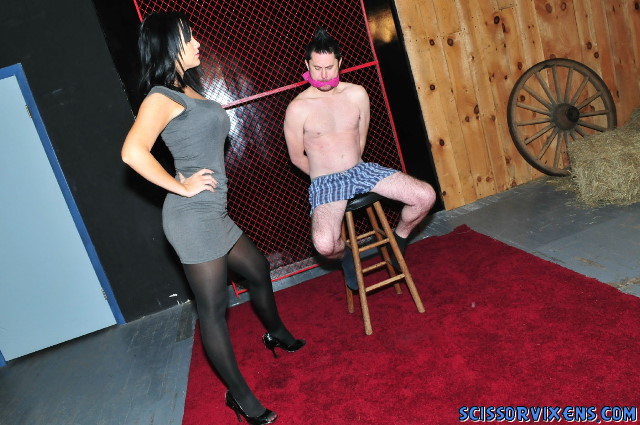 Dressed in all-black wearing a leotard and nylons the
always SEXY Mandy Taylor returns as a member of a group
of female assassins. She's known as Mandy 'The Mangler'
for what she loves to do to her male victims which is
mangle them in her scissors using her long, powerful
thighs! However for Mandy 'The Mangler' crushing her
helpless victims to death isn't just another job...it's
truly a scissorgasmic experience!
Watch as Mandy 'The Mangler' introduces herself to
another soon-to-deceased man as he struggles to free
himself from the ropes she's tied him up with. After
applying a few choke holds from behind with her arms she
unties his hands and that's when 'The Mangler' goes to
work!
She starts out by grabbing his head and wrapping it up
in a neck-breaking figure-4 as his arms and legs flail
about from the lack of oxygen. No doubt Mandy 'The
Mangler' could end his life right there but what fun
would that be!? Mandy 'The Mangler' is many things but
merciful she is not. So she continues to do what has
earned her, her name and that is mangling her victim up
in one torturous scissor hold after the other. At one
point she almost seems to feel compassion and pity
towards her victim as she strokes his head with a gentle
hand and kisses him on the forehead to comfort him. But
the comfort doesn't last very long as she coils her
thighs around his body like an anaconda in a
rib-crushing body scissors!
All throughout the torture session Mandy gets
increasingly aroused, even touching herself in a few
intimate spots, as the victim's life is slowly but
steadily squeezed out of him. In the end she tells him
it's time for the climax but only her climax is going to
be much better than his! Watch as she tightens her grip
around his neck while touching her own breasts and
moaning in pure scisssorgasmic ecstasy all the while his
life slips away between Mandy 'The Mangler's' thighs!

Download:
Link mediafire or box.net
click here to download