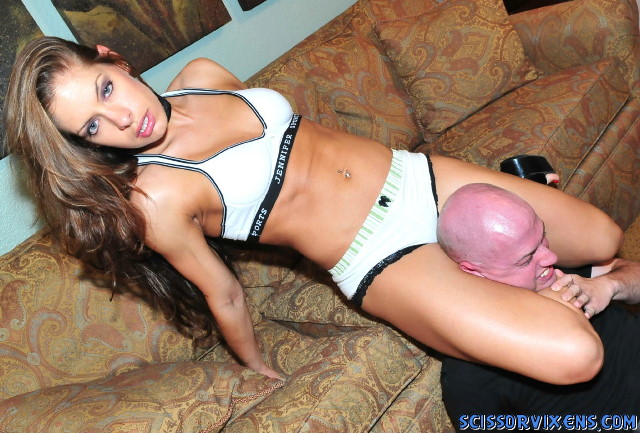 Skylar Rene looks absolutely stunning in her debut
ScissorVixen video playing the role of a professional LFL (aka
Lingerie Football League) football player. She's
going 'door to door' looking for donations for her
team's upcoming season but when she knocks on the door
of cocky man with a shitty attitude that laughs at the
idea of women being able to play a high contact physical
sport like football, especially 'bikini model' types
wearing lingerie, she decides to introduce him to a new female
sports league instead...the 'LSL - Lingerie Scissor
League'!
She takes a step in to his apartment to show him what
the girls from the LFL are all about and to prove to him
that they aren't some fragile 'bikini models' worried
about breaking a fingernail but are good at breaking
other things like bones!!
Standing at about 5'11" tall in her high-heels Skylar
Rene absolutely towers over the shorter bald-headed man
and tells him it's time for an attitude adjustment!
Watch as gorgeous Skylar Rene totally
destroys the man in skull-crushing head scissors,
suffocating reverse figure-4's, throat-busting front
figure-4s using her muscular calves, rib crushing body
scissors and debilitating reverse head scissors that
leave him totally paralyzed and unable to even speak!
All Skylar Rene wanted was a few dollars from him to
donate to her LFL football team and in the end she gets
that and more as she squeeeeeezes a newfound respect out
of him for the girls of the Lingerie Football League and
her new sports team...the 'LSL - Lingerie Scissor
League'!

Download:link mediafire or box.net
click here to download