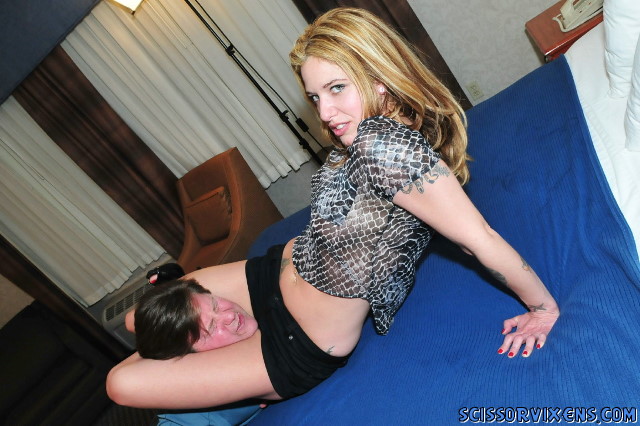 Psycho Doll returns to ScissorVixens.com playing the
role of a sexy female vigilante named Candy 'The
Constrictor'. She's on the hunt for a man who's been
committing sexual crimes against women in her
neighborhood including a few of her friends. So when
she finds him hiding-out in a hotel room she administers
justice the only way she knows how...by CONSTRICTING his
puny little body nearly to death with her long, powerful
thighs!
Watch as Candy 'The Constrictor' moves from one
bone-crushing scissor hold to the next including
excruciating body scissors, eye-popping head scissors
and neck-breaking figure-4's! In the end she pulls him
to the edge of the bed and scoops his limp head up into
a standing reverse head scissors and says..."This is
your last breath!".
After scissoring him to death she casually walks over to
the room's full-length mirror and leaves her vigilante
trademark..."The Constrictor!".
So check out Psycho Doll in her latest ScissorVixen
video titled 'Candy 'The Constrictor''!

Download:link mediafire or box.net
click here to download